What to Expect When You Work with a Ghostwriter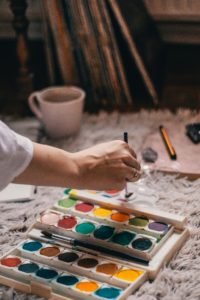 What to Expect When You Work with a Ghostwriter
The term "ghostwriter" is becoming more commonplace, or at least used more frequently in business conversation, but there are still some misconceptions about what ghostwriters do, exactly, and what role they play within the book publishing industry.
If "ghostwriter" is a term you haven't heard before, let me share my own definition: A ghostwriter is a skilled professional writer who is hired to produce written materials for their client(s), generally in the client's own voice – making the finished document sound as if the client has written it themselves.
Although ghostwriters are frequently retained to help with book projects, they can also assist in writing articles, blog posts, newsletters, emails, speeches, white papers, case studies – really, anything that a business might use or publish. The biggest difference between ghostwriters and, say, freelance writers, is that ghosts don't usually have their name attached to the work. In many cases, someone else's name goes on it (with the ghostwriter's knowledge and permission).
Why Hire a Ghostwriter?
There are a number of reasons someone may choose to hire a ghostwriter, but these are the most common:
Time. Ghostwriters are often hired because an expert doesn't have the time to invest in producing some type of document and wants to outsource that responsibility to someone else, so that they can stay focused on higher priorities.
Speed. Often related to time (or lack thereof), if the client already has a publishing contract in place with a looming due date or an important event on the horizon, sometimes bringing on a ghostwriter is the only way that a deadline will be met, especially if the client can't drop their regular work and devote themselves full-time to the publishing deliverable.
Lack of interest. In some cases, clients may be able to find the time, but they don't have the interest; writing isn't something they enjoy. They'd rather someone else do it on their behalf.
Lack of skills. Or in other cases, the client may feel that they don't have the skills needed to do a superior job so, again, they look to delegate the work to someone else more familiar with the writing process.
The advantage is that while the ghostwriter turns their full attention to producing a high quality book, article, or blog post, their client can remain focused on their day job.
What Does a Ghostwriter Do?
Now that you know how a ghostwriter can assist you, you may still wonder how they work, or what their process looks like. This question is closely related to what you can expect when you work together, because it's important to make clear at the start who is going to do what.
Despite what some people may think or assume, ghostwriters don't magically whip up books or article or blog posts from thin air – they need input from their client. Sure, the amount and level of detail provided can vary greatly (often based on how much background in the topic area the ghostwriter has), but a ghostwriter can't get started until they're clear about what their assignment is and they know where background information can be found.
That said, many ghostwriters serve in several capacities simultaneously during an assignment. These roles can include:
Project manager. Especially with book projects, ghostwriters who have publishing experience become the point person, taking responsibility for developing a work schedule and timetable for completion of the work product. They keep track of who has what and when it needs to be turned around.
Interviewer. With nearly every written deliverable, someone needs to be interviewed to gather their expertise and perspective on a particular topic. With articles and books, often several people need to be interviewed to gather background input. Ghostwriters take the lead on scheduling those discussions and asking the questions required to collect interesting details and stories.
Researcher. Many books and articles also require background research. Whether to track down a relevant statistic to back up a particular claim the author has made or to uncover an interesting case study to be woven through a chapter, ghostwriters often use their research abilities to find facts and figures that bring a story to life.
Writer. Of course, the ghostwriter's primary role, however, is as the writer – the professional responsible for pulling together many disparate pieces of information to educate, inform, inspire, or entertain the reader.
Editor. Once a draft document has been produced, clients are expected to review it and provide feedback. That feedback becomes a request for changes, which the ghostwriter then makes. The best ghostwriters willingly make revisions that improve the material and push back on or question requested changes that change the meaning or muddy the point being made on the client's behalf. This step in the process is a lot like polishing and the client has the final word.
Publishing consultant. Throughout the creative process, ghostwriters may also serve as consultants on publishing decisions to be made. That may entail suggesting independent publishers, making introductions to literary agents or acquisitions editors at publishing houses, finding skilled graphic designers or outside editors, tracking down indexers or proofreaders, or offering their opinion regarding length, target audience, or title, among many other decisions to be made along the way.
Although a ghostwriter is a hired professional, the process of creating a book or article or blog post is very collaborative. It has to be, so that the finished product reflects the client's thoughts, experiences, and opinions. The ghostwriter is there to help make that finished product as strong as it can be.