Take a Blues Lesson from Buddy Guy and Mark Hummel: Expand Your Brand with a Book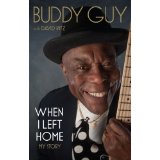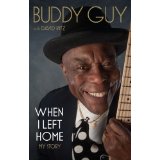 Guest Post by Douglas Glenn Clark
The excellent memoir When I Left Home by legendary blues guitarist Buddy Guy was not penned for fame and fortune.  He already has both.
Guy wrote his book (with the help of a ghostwriter) because long ago he made a vow to do anything and everything he could to help preserve the blues.  He is a man on a mission.
Meanwhile, blues harmonica player Mark Hummel may not enjoy Guy's iconic status, and yet he has built a remarkable career wowing crowds with his exceptional musicianship.  He too has authored a book.  Big Road Blues: 12 Bars on I-80 is an irreverent look at life on the road.
Is Hummel also a man on a mission?
No, I would call his publishing event a crusade:  He intends to use his indie-published tome to expand his brand.
Both musicians clearly understand the potential power of publishing.
Blues in Bookstores
Would you attend a blues concert at your local Barnes & Noble or independent book store?  Hummel hopes the answer is yes.   With book in hand, his plan includes visiting bookstores in the cities he tours to reveal what it is really like to be a veteran in the music business.  Think of these performances as 12-bar reality TV.
He will also make the book available at the clubs and concert halls he tours nationwide.  Selling CDs and concert souvenirs is a staple of the traveling musician.  By adding a book, Hummel is offering old and new fans another entry point to his universe.  He is also creating a new revenue stream.  As of this writing, Hummel's rating at Amazon is #5 in Books > Arts & Photography > Music > Theory, Composition & Performance > Sheet Music & Scores > Composers.
Marketing the Blues
Hummel and his band are a popular act on the blues circuit.   They get their fair share of press when they come to town.  But a bluesman with a new book may very well attract new interest from local media.   His publicist has made good use of the title.
Also, since Hummel's book is a rowdy, raw look at the highs and lows of touring, he may make some noise.  Not a bad thing when looking to expand an audience — and anchor cred as the real deal in the world of blues.
Before publishing his book, Hummel was not idle.  Among other things, he:
Collected some great blurbs from a roster of musicians he has met through the years
Pre-released some photos of his interaction with other musicians
I believe he can go further:
Leak some colorful episodes in the book that include celebrities through blog posts and articles
Juxtapose his real-life experience against American Idol glitz.
Create a podcast that blends audio book with blues harp riffs
It may seem that Guy is playing the marketing game with a stronger hand, since he owns Legends, a blues club in Chicago.  Yet not every fan, or music lover who has never been treated to a delicious night of blues, has the time or means to visit.  So his candid, humorous and moving memoir, in hardcover or digital editions, becomes an ambassador that can travel the world spreading the news of the blues.
One last suggestion for Hummel: Get a gig at Legends and cross-promote Big Road Blues: 12 Bars on I-80 with When I Left Home.  That's a book signing I would like to attend.
Blues Lessons
Corporate leaders, physicians, attorneys and many others may not be a guitar or harp player with a large following.  But interesting people from many walks of life may benefit from authoring and distributing a book.
Let's take a lesson or two from Guy and Hummel:
A book is your brand.  It expresses your special way of thinking and leading.  If you only share your gift with staff, you are missing a wider audience.  Don't need fame, you say?  But maybe your business does.  Your notoriety could be a big boost to public awareness of your enterprise.
A book suggests that the writer is a good storyteller.  Name three groups that love to invite boring speakers to their events.  A corporate leader or thought leader with a good story to tell is always in demand.
A book is a mobile billboard.  Especially if the book is also available in a digital edition.  Like free advertising?  An electronic title has the potential to become a global "viral" messenger.
Many bestsellers don't make their authors rich, because the royalty payments are low.  Wealth comes from all the other opportunities a book may create: TV appearances (yes, even "reality" shows), public speaking engagements, and print media interviews.  Your book sells you, not the other way around.
Public awareness expanded by your book may expand sales of your inventory.  That revenue across a full line of products could be expansive.
Looking for new challenges?  Let your book bring you ventures, people and opportunities.  Take your pick.
Become a prolific author by hiring a ghostwriter.  Catching the wave of the new economics of publishing may require more than one title.
Douglas Glenn Clark is a ghostwriter whose passion for storytelling has helped entertainment and business clients share their expertise and stories in books and blogs.  His "ghost" assignments include non-fiction and fiction, stage plays and screenplays.  He is a member of the Writers Guild of America and his plays have been produced in regional theaters.  He is the author of The Memory Songbook and The Lake That Stole Children, both available at Amazon.com