5 ways to position yourself as the ghostwriter-expert
5 Ways to Position Yourself as the Ghostwriter-Expert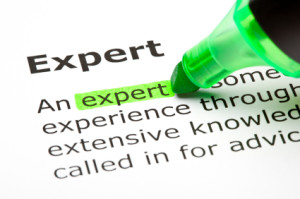 Clients generally prefer to work with ghostwriters who have experience in the client's field. Since most clients typically know very little about the publishing process or the world of media in general, they want an expert who can take them by the hand and lead them to publishing success. That means that the more you can demonstrate your expertise, the easier it will be to attract and land ghostwriting clients.
So how, exactly, can you convey your expert status to clients? Here are 5 things you can do immediately to establish yourself as an expert:
– Keywords. Make use of keywords on your website or in online profiles that clients use to search for a ghostwriter with your talents. That may mean adding the word "ghostwriter" to your  personal description. Or mentioning magazines you've written for or subjects in which you have considerable experience. Make it easier for clients to find you online.
– Name drop. When clients hear you've worked with other big name success stories, their confidence in you rises. Any doubts they may have had about your level of experience will decline after learning celebrities, Fortune 500 executives, sports stars, or well-known politicians have chosen you, too. So make sure you get permission and then mention past clients. You don't need to say what you did for them, specifically, but ask if you can at least align yourself with them.
– Take photos. When you attend events at which celebrities of your industry will be in attendance, do your best to have a photo taken with them. If you're a food writer, for example, a photo with Bobby Flay might be of interest to your target clientele. Or if you write about golf, a photo with Tiger Woods could help raise your own celebrity status. Then splash those photos everywhere. Clients like to see that your circle of friends and contacts includes other celebrities.
– Feature testimonials. Instead of trying to convince potential clients yourself that you are good at what you do, ask current and former clients to endorse you by providing a short testimonial. You can then use those 2-3 sentences on your website, in promotional materials, and on social media sites. Positive comments from others give you credibility that enhances your expert status.
– Raise your visibility. Today, one of the first things potential clients will do is Google you – meaning they will do a little background research to find out more about you and who you've worked with in the past. To ensure that there will be many search results presented, spend some time networking. Become active on social media sites. Pursue article-writing opportunities in your niche or industry. Guest blog for other writers in your specialty. Be everywhere.
Since people like to do business with people they know, like, and trust, invest time in introducing yourself and establishing why you are the best ghostwriter for the job. These five steps will give you a big advantage.