Member Spotlight:
Josh Kelley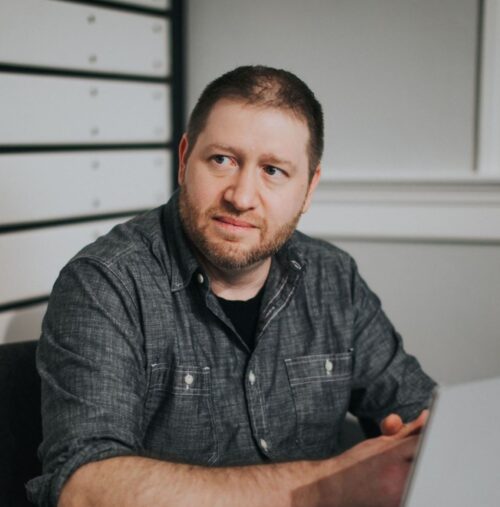 How did you land your first book ghostwriting project?
When my first book came out (Radically Normal, a traditionally published Christian living book), I was nearly burned out after 14 years as a pastor. Taking the next logical step, I became a bartender and wrote a novel.
Enter 2020 and the COVID pandemic. I'd never thought about ghostwriting, but my novel was finished, no one wanted to buy it, and the government was paying me not to work. Almost for my amusement, I did a small ghostwriting project for a self-publishing firm and discovered I was really good at it. A novelist already hears multiple voices in his or her head, so writing in the voice of an actual person feels relatively normal.
That company's rates were…lacking…so I never did another project for them, but it led to a conversation with a successfully self-published friend who needed help "cleaning up" someone else's manuscript. From there, one thing kept leading to another and I've now ghostwritten fifteen books that have taken me as far away as Kenya and introduced me to some remarkable people.
What has been your secret to building a steady stream of ghostwriting clients?
Hustle.
Early on, I wrote a personal mission statement, "To bring more life-changing, God-honoring books into the marketplace" which serves as the target I aim for, even as I hustle my ass off and use every trick I can to get the next client. I've used LinkedIn, paid for marketing services (meh), cold-called intriguing people, pursued referrals, and joined Reedsy, Association of Ghostwriters, Gotham Ghostwriters, and Kevin Anderson & Associates.
The second secret is seeing (and presenting) myself as a professional. I rent an office, wear a suit to meetings, and pay for upgraded versions of Zoom, Calendly, etc. to remove watermarks. Because I'm asking clients to invest a lot of money in me ($1 a word and up), I can't afford anything that says "fly-by-night."
What do you wish clients understood about the ghostwriting process?
A book is always about the reader. It's not to make you (the client) look good or feel better about yourself, it's to entertain, educate, and inspire them. And because the book is—literally—not about me as the ghostwriter, I'm in a better position to maintain that focus.
In his New Yorker article, Notes from Prince Harry's Ghostwriter, J. R. Moehringer tells of his shouting match with the prince because he refused to include something that wouldn't serve the reader. Because it is the client's book, I personally will ultimately give into them—royalty or not—but always guide them away from self-indulgent material.
How would you describe your favorite type of project and client?
An interesting client that I connect with and has something worthwhile to say. I lean towards books with a lot of storytelling, whether memoirs with insightful life lessons or leadership/business books filled with personal experiences.
What are the best parts of this career?
Between my ADHD and dyslexia, I literally crave discovering something new and have a knack for seeing the big picture. From there I enjoy improving the client's message via the collaborative process and crafting engaging prose.
How can people reach you?
My email is me@joshkelley.ink and website is www.joshkelley.ink.