RadarOnline Reports Real Housewife of New Jersey Star Uses Ghostwriter
RadarOnline Reports Real Housewife of New Jersey Star Uses Ghostwriter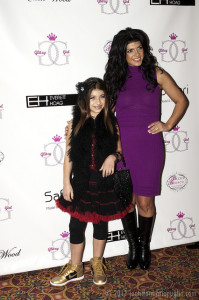 Ok, so which one of us has been ghostwriting Teresa Giudice's blog and books? Come on, fess up. (I sure hope it is an AOG member!)
No one should be shocked that Giudice may have had help with her blog – most celebrities simply don't have time to sit down regularly and personally pen blog posts. I would bet that few have the interest or maybe even the skills required to express themselves in writing. Using a ghostwriter to help convey a message, tell a story, or share the celebrity's perspective is fairly routine, to be honest.
Just as I don't try and repair my own car or teach my child to play an instrument, because I lack those skills, I would expect others to hire professional writers to tackle tasks that involve writing for an audience.
But does that Giudice was trying to fool anyone? I seriously doubt it, putting aside that whole mortgage fraud issue, of course. And the suggestion that she was trying to pull one over on us indicates the writer doesn't really understand how a ghostwriter works.
A ghostwriter is a facilitator of sorts. They interview their clients to gather as much information as possible on a topic, whether it's their views on how fashion forward prison garb is, whether furniture today is as sturdy as it was in prior generations, or what their co-stars said behind their back after last week's show. Ghostwriters collect quotes from clients and string them together to express thoughts, which their clients then review to ensure it reflects what they meant. If it doesn't, the material is changed.
Do ghostwriters make things up? No. Do they attribute opinions or statements to their client that the client didn't actually say or mean? No. They are not publicists or spokespeople, they are writers hired to help their clients better express themselves.
Is there any shame in hiring a ghostwriter? There certainly shouldn't be! Are you ashamed of hiring, say, a personal stylist to help you choose clothing that is more flattering on you? Or a speechwriter to help you prepare a presentation for next month's big conference? You shouldn't be. We do not have all the skills we could possibly need to be successful, so we find people who do and we hire them to support us. That's what a ghostwriter does.
I applaud Giudice for recognizing she could use some help and then hiring a pro to assist her. There's no shame in that.
Photo Courtesy of Jennifer Marie Puglia