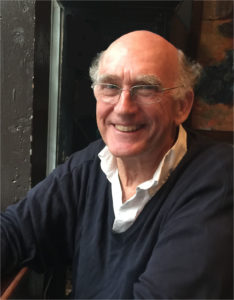 Michael J. Dowling
Award-winning ghostwriter and owner of
Wool Street Publishing
I get great satisfaction from helping business professionals, consultants, and other thought leaders write and publish non-fiction books that persuasively communicate their ideas, dramatically enhance their professional image, open doors to speaking engagements and media interviews, and generate a profitable return on investment.
A lot of writers do a pretty good job of putting pen to paper. I also take pride in writing clearly, concisely, and convincingly. My goal will be to express your thoughts in your voice to accomplish your goals.
But there's a lot more to ghostwriting than writing. If your book isn't properly structured, the best writing in the world will fall flat. That's why I will spend considerable time at the beginning of every project conceptualizing the book for maximum impact.
Writing and publishing a book is a rather complex process. It's easy to make a costly mistake. Drawing upon my more than thirty years of professional management experience with both profit and non-profit organizations, and my more than seventeen years of ghostwriting experience, I'll guide you through the entire book-writing process, so your project comes in on schedule and on budget. I provide turn-key service from conceptualization to publication and distribution, always with the goal of conserving your valuable time.
For writing samples, references, and other information, see http://www.MichaelJDowling.com.
Education: MBA, Columbia Business School (NYC); BS with honors in engineering, University of Florida
Years of experience: 20 +
Office location: Charleston, SC, near the summit of Mount Pleasant (elevation 10 feet)
Memberships: Association of Ghostwriters, Independent Book Publishers Association
Honors: International Book Awards; National Indie Excellence Book Awards; Columbia Graduate School of Business Harriman Scholar
Books Ghostwritten and Edited:
Data Driven: How Performance Analytics Delivers Extraordinary Sales Results by Jenny Dearborn, executive VP, SAP (ghostwriting)
Mining Your Own Business: A Primer for Executives on Understanding and Employing Data Mining and Predictive Analytics by Jeff Deal (VP) and Gerhard Pilcher (CEO) of Elder Research Inc. (ghostwriting and self-publishing services)
Leading with Honor: Leadership Lessons from the Hanoi Hilton by Lee Ellis, management consultant (ghostwriting)
Diverge: Break Away from Business as Usual to Achieve Extraordinary Business Results by Bill Rossiter, CEO of Interrupt, Inc. (ghostwriting and self-publishing services)
Clutter-Free Wealth: A Goal-Oriented Guide to Gaining Control of Your Affluence by Liz Miller, CFA & CPA (ghostwriting)
The Value of Core Values: Five Keys to Success Through Values-Centered Leadership by Lisa Huetteman, management consultant (ghostwriting)
10.5 Reasons to Hire a Coach by David Herdlinger & Joan Walsh, executive coaches (ghostwriting)
Apprehended for Life: The Autobiography of Montez Bullock by Montez Bullock (editing)
Ready, Set, Plan, Go! by Joan Walsh, executive coach (ghostwriting)
Rock the World with Your Online Presence by Mike O'Neil (editing)
Bottom Line Focus: How to Take Your Business from Surviving to Thriving in 18 Proven Steps by Martin Harshberger, management consultant (ghostwriting and self-publishing services)
Healing a Hospital by David Herdlinger, executive coach (ghostwriting)
Say Goodbye to Varicose & Spider Veins Now! by Greg Martin, MD (ghostwriting and self-publishing services)
Blazing Your Own Trail: A Guide for Women on the Way Up by Joan Walsh, executive coach (ghostwriting)
10.5 Reasons Why Even Top-Notch Executives Fail by David Herdlinger, executive coach (editing)
Investing in God's Business: The "How To" of Smart Christian Giving by Terry A. Parker, Gregory L. Sperry, and David H. Wills of the National Christian Foundation (ghostwriting and self-publishing services)
The Worst Financial Mistakes in the Bible and How You Can Avoid Them by Chuck Bentley of Crown Financial Ministries (editing)
Books Authored:
Flip Along Fun, an award-winning children's book
Boosting Your Pet's Self-Esteem, a humorous cultural satire published by Macmillan
Magazine Articles Authored:
"Turn White Papers into Green Dollars," published in Speaker: The Official Magazine of the National Speakers Association, July/August 2012
"5 Key Qualities to Look for When Hiring a Professional Writer (So You Don't Make a Costly Mistake!)," published in The Independent, the journal of the Independent Book Publishers Association, June 2011
"Giving as Worship," published in Money Matters, a magazine of Crown Financial Ministries, November/December 2010
"Taking the 'Spookiness' Out of Ghostwriting," published in the Book Designer blog, http://TheBookDesigner.com/2011/07