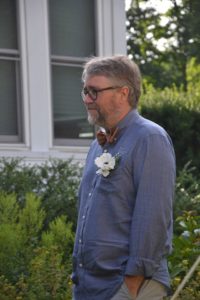 James Buchanan is a 51-year-old writer and ghostwriter living in Exeter, NH, with his wife Anne-Monique, daughter Violet, son Quincy, four cats, and one leopard gecko. He attended Quaker schools for most of his educational life and graduated from Westtown School, a Quaker boarding school near Philadelphia. After exploring the U.S., work, and life in his twenties, James enrolled in SUNY New Paltz where he earned a B.A. in Political Science. His writing career began soon after as a political journalist in New Hampshire. After winning numerous awards and interviewing presidents, presidential candidates, cabinet members, and many other political types, he decided to focus on his first love of storytelling. This led to a career as a ghostwriter working within a diversity of styles and subjects. His work as a ghostwriter has won awards, attracted publishers to his clients, and his writing continues to receive praise. He can be found online at: www.orchardwriting.com.
Location: Exeter, NH
Specialties: 
Creative Nonfiction and memoir is my favorite area of writing and where I've won some awards, garnered attention from publishers for the authors I work with, and had some projects turned into screenplays. One is being marketed by the screenwriter in LA and the other has a small production company behind it.
James also writes on a range of business related topics that include business theory, technology and related methodologies, sales and marketing, continual improvement, etc.
James has also written for the life sciences at a high level (The MIT Press). As a cancer survivor, this is an area of particular interest.
Years of Experience: 20
Books: Can be provided upon request. I have signed numerous NDAs (nondisclosure agreements) and do not want to risk violating any of them.