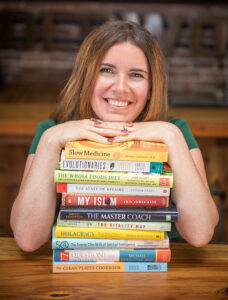 "Master collaborator Ellen Daly, if ever I've seen genius at work, you are it. Your clarity in navigating where I was coming from and where I needed to go kept me on course." – ESTHER PEREL, author of the New York Times bestseller The State of Affairs: Rethinking Infidelity (HarperCollins, 2017)
Ellen Daly is a highly sought after collaborative writer who works with thought leaders, businesspeople, and experts to craft engaging and marketable books. Since founding CoCreative Writing in 2006, she has played a role in the writing and publication of more than thirty titles, including the New York Times bestseller The State of Affairs by Esther Perel (HarperCollins, 2017) and The Whole Foods Diet by Whole Foods Market founder and CEO John Mackey (Grand Central Life & Style, 2017). Her book proposals have garnered publishing deals with all of the "Big 5" New York publishers, and her writing consistently wins praise from literary agents and editors. Ellen's eclectic client list includes luminaries in the fields of business, finance, health, diet, relationships, and self-help.
Ellen grew up in southwest England, attended a Waldorf school for most of her educational career, and earned her degree in English Literature from the University of London. She honed her craft as an editor in magazine publishing for several years before founding CoCreative Writing in 2005. She lives in Oakland, California, with her husband, author Carter Phipps, and their beloved cat. When she's not writing, Ellen loves trail running, cycling, and riding her Arabian horse in the beautiful East Bay hills. She is passionate about wine, vegetarian cooking, and her expanding vegetable garden.
Location: Oakland, CA
Specialties: Books and book proposals in the following genres: Business, Health, Diet/Cooking/Food & Wine, Relationships, Self-help, Memoir
Years of Experience: 12
Memberships: Association of Ghostwriters
Books: 
The State of Affairs: Rethinking Infidelity by Esther Perel (HarperCollins, 2017)
The Whole Foods Diet: The Lifesaving Plan for Health and Longevity by John Mackey, Matthew Lederman, MD, and Alona Pulde, MD. (Grand Central Life & Style, 2017)
Holacracy: The New Management System for a Rapidly Changing World by Brian Robertson (Henry Holt & Co, 2015)
Slow Medicine: Hope and Healing for Chronic Illness by Michael Finkelstein, M.D. (William Morrow, 2015)
My Isl@m: How Fundamentalism Stole My Mind—And Doubt Freed My Soul by Amir Ahmad Nasr (St. Martin's Press, 2013)
The Clean Plates Cookbook by Jared Koch (Running Press, 2012)
Love Unfiltered by Mike Murphy (Next Century, 2014)
The Creation Frequency by Mike Murphy (New World Library, 2018)
Dream: Clarify and Create What You Want by Marcia Wieder (Next Century, 2016)
The Master Coach by Gregg Thomson (Select Books, 2017)
SQ21 by Cindy Wigglesworth (Select Books, 2013)
The Vitality Map: A Guide to Deep Health, Joyful Self-Care, and Resilient Well Being by Deborah Zucker (LomaSerena Press, 2016)
Evolutionaries by Carter Phipps (Harper Perennial, 2012)
Minding Your Business: Profits that Restore the Planet by Horst Rechelbacher, founder of Aveda (Earth Aware Editions, 2008)
Beyond Success: Redefining the Meaning of Prosperity by Jeff Gitterman (AMACOM, 2009)
Escape Anxiety: 8 Steps to Freedom through Meditative Therapies by Suzanne Jessee (Select Books, 2015)
And many more…
How can you contact Ellen: To learn more about collaborating with Ellen, please visit http://www.ellendaly.com/, email info@ellendaly.com, or call 510-455-8004