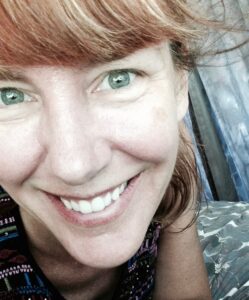 In 2009, after graduating from the MFA Program for Writers at Warren Wilson College, Christine left part-time adjunct university teaching to become a full-time ghostwriter and editor. Her own fiction and nonfiction has been published and awarded, and she has received fellowships from Artist Trust, Kimmel Harding Nelson Center for the Arts, Jentel Artists' Residency, Vermont Studio Center, Brush Creek Arts Foundation, and Djerassi.
Christine has collaborated on—as a ghostwriter or editor—over two-dozen published books. She also helps companies and organizations brand and engage with their audiences and clients via blogs, newsletters, and web copy. Whether helping clients sell a service or bringing a work of fiction or nonfiction to life, listening and storytelling is the heart–and the art–of her collaborative process.
As a resident of the Pacific Northwest, Christine spends much of her free time outdoors, running, hiking, and playing pétanque. Indoors, she reads and plays "taste tester" for the amazing dishes her partner cooks. She has worked and traveled abroad extensively.
Location: Port Townsend, WA
Specialties: Books and book proposals in the following genres: Memoir, Literary Fiction, Creative Nonfiction, Self-help, Marketing, Education/Mentoring, Leadership, Travel/Culture, Archaeology/Ecology.
Web copy, blogging, newsletters, and white papers.
Years of Experience: 10
Magazines: Louisiana Literature, The Louisville Review, Gulf Coast, Hobart, New South, More Than Sports Talk, Germ Magazine, The American Literary Review, Painted Bride Quarterly, r.kv.r.y., Tinderbox Poetry Journal
Memberships: Association of Ghostwriters, Northwest Independent Editors Guild, Association of Writers and Writing Programs (AWP)
Books: 
2017 Books
Filled With Gold: A Widow's Story
A Different Ending: Reflections on Living and Dying
Selected Recent and Ongoing Projects
Photography book. Line editor. University press. 2017.
Mindful leadership. Ghostwriter. Independent publisher. July 2017.
Marketing and disruption. Ghostwriter. Self-published/Amazon. April 2017.
Creative communication. Book Doctor. Independent publisher. February 2017.
Web copy for human rights foundation. Ghostwriter. November 2016.
Marketing and personalization. Ghostwriter. Self-published/Amazon. October 2016.
Dental informational/self-help. Ghostwriter. March 2015.
Fatherhood as a professional athlete, self-help. Ghostwriter. Book proposal. 2014.
Instructional design and newsletter materials for top philanthropic foundation. 2015.
Online marketing and big data. Ghostwriter. Independent publisher. March 2015.
Transgender memoir. Developmental editing in progress.
Mental health memoir. Developmental editing in progress.
Women's work/adventure memoir. Developmental and line editor. Currently querying.
Blog posts & articles. Academic, leadership, marketing, self-help. Ghostwritten. Ongoing.
Science fiction novel. Developmental and line editing in progress.
To learn more, visit Christine's website: www.christinefadden.com, or email her at cfaddenwriting@gmail.com