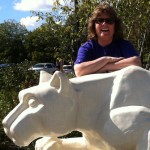 Chris Redding has been writing in some form or another since she was 10 years old. She holds a BA in Journalism from Penn State and is an established author of novels, novellas, shorts stories, newspaper articles and ghost written books.
She has published mainly fiction, with a specialty in romantic suspense, but has written about contemporary romance, paranormal romance and cozy mystery for herself and for others. She is actively involved in the professional writing community, conducts workshops to help other writers, and also does copywriting work.
Her expansive imagination and years of diverse writing experience, along with her strong sense of organization, flexibility and customer satisfaction, make her a great choice to help you write that personal story, life experience or story idea that you have been wanting to share with the world.
Books: A View to a Nerd (Nerds Saving the World Book 2); License to Nerd (Nerds Saving the World Book 1); Blonde Demolition; Which Exit Angel; Incendiary; Corpse Whisperer; Alchemy and Old Spice; Along Came Pauly (Dog Matchmaker Series Book #1); The Drinking Game; Confessions Volume 1; Confessions Volume 2. (Blonde Demolition can also be found in Sweet & Sensual: 6 Romance Novels by Bestselling imagin Book Authors)
Other Writing: Former journalist for Hillsborough Beacon/Princeton Packet; wrote lectures for several CEU Courses (Emergency Medical Service); and developed curricula for several writing classes.
Ghost Writing: While she cannot reveal the names of the books to which she has contributed, due to confidentiality, they span romantic to contemporary to paranormal romance and suspense. Some clients come to her with a well thought out idea and book structure and flow. Others come with just an idea and a lot of passion. She can transform a range of approaches into something her clients have been quite happy with, so much that they come back for more.
Memberships: Association of Ghostwriters
Location: Neshanic, New Jersey
Contact: chrisreddingauthor@gmail.com; chrisreddingauthor.com