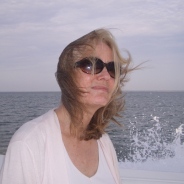 Cathie Gandel has spent over 25 years in journalism and corporate communications. She has an international business perspective and sensitivity to cross-cultural communications developed during the seven years she lived and worked in Asia.
As a freelance journalist, I have written on personal finance and business, health, travel, marketing, advertising and public relations, retail development/​construction and architecture. I have also done profiles of business leaders in the U.S. and Japan, and ghost-written articles and op-ed pieces. Web site: www.cathiegandel.com
Book Author:
Collaborated on a full-length memoir with Kathy Kriger: Rick's Café: How I Brought a Screen Legend to Life in Casablanca. (Lyons Press, Nov. 2012) It is the remarkable story of how one intrepid woman turned Hollywood fantasy into Moroccan reality, bringing to life the screen legend that has captured the imagination of generations.  The book was chosen by Publishers Weekly as a Memoir Notable Pick for the Fall 2012.
Author of Jon Jerde in Japan: Designing the Spaces Between (April, 2000, Balcony Press) is written in a journalistic style for a general audience, and looks at the business of retail design and development in an international arena.  A sub-theme of the book shows how a Japanese developer and a U.S. architectural firm developed an effective, satisfying and successful business relationship.  The book became number four on the Los Angeles Times Hardcover Nonfiction Bestseller list in July, 2000.
Corporate Writing:
Food: Jollibee Foods, Kikkoman Corporation
Automotive: Mazda, Kensington Motors
Electronics: Hitachi
International Real Estate: PricewaterhouseCoopers, Financial Capital Investment Co.
Architecture/Design: The Jerde Partnership International, Inc., Takenaka
Arts: Kawai Piano, Hua Du International,
Journalism: Articles on business, personal finance, nuclear engineering, food, retail construction/architecture, and travel. Articles, essays and profiles of business leaders have appeared in U.S. News & World Report, Bankrate.com, ("Lingo every investor should know;" Six figures to financial success" et al.) Reader's Digest,(" How to find cold cash in tough times" et al.)Miller-McCune, The AARP Bulletin ("Boomers mean business: six trends that changed the marketplace" et al.) Arrive, ("Managing Gen Y"); The Los Angeles Times, and the alumni magazine of Susquehanna University's business school.